Banda Islands surrounded by crystal clear water with exotic seabed and sea life beneath. It spreads in Maluku Province. Banda islands is suitable for diving. The beauty of Banda's underwater is widely known around the globe. As a spice-producing islands, the Banda Islands has been widely known to the world since the 16th century.
Sailing is another activity that can be done. Sail Banda festival is one of the most exciting activities. Sail Banda 2010 festival is an annual sailboat race at international level. Sail the Moluccas in 2011 was held in July-August, next year will be held sail Morotai 2012.
Walking in Bandaneira there will be green and peace views along the road. You may see the remnants of the history of the islands when conquered by the Portuguese, Dutch and English. There is also some historical building from the pre-independence period such as, the exile house of the first vice president, Mohammad Hatta, Sutan Syahrir, and Dr. Cipto Mangunkusumo. Feel the sensation of the past while capturing a satisfactory object for your camera.
History of Indonesian Heroes:
If you want to feel the thrill of mountain climbing, Gunung Island with it's Mount Api summit is the right choice. By hiring a local fishing boat about IDR 10.000, you reach the island. After climbing about 90 minutes long with or without a guide, you can see the sunrise view of the Banda Islands. While swimming can be done on the southern coast of Banda Besar island or the island Nailaka. Hiking can also done by visiting a traditional village and an 4 centuries old nutmeg plantation on the Banda Besar island.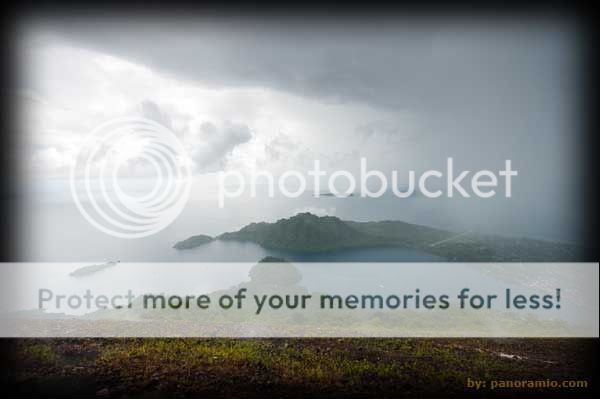 View of Banda Islands from the Mt. Api summit
This islands has 25 diving points. Some of the most popular places is the Ai island, Batu Kapal, Hatta Reef, Keraka
Island, and Nusa Sea.
The following is the list of some diving sites spread across Banda.islands
Tips and warnings
Diving can be done throughout the year, but during the rainy season (July-September), you are restricted to choosing some places to dive.

There are no ATMs around the Banda Islands, prepare some cash before visiting the island. Save your money in a safe place, especially when you are around the harbor.

Mobile telecommunications provider is limited to Telkomsel and XL. You can refill your prepaid card in Bandaneira.

Novice divers are encouraged to be more careful for safety because ocean currents can be strong in some places.

Diving is usually comfortable with visibility about 15-30 meters in the calm water conditions, but in some places are only suitable for experienced divers. Ask for advice from your diving supervisor.

The depth of the diving sites ranging from 5 meters to over 40 meters with a temperature of 26-29 Celsius so make sure you have a fit condition.

There have been frequent reports of pickpocketing at the ferry terminal, pay high attention and safely store your valuables!

Indonesian ferries generally have low safety standards. In particular overloaded small boat, e.g. to Pulau Ai, is hazardous during rough sea.
Small boats and vast sea:
TRANSPORTATION
Bandaneira entrance way initiated from Ambon. Ambon is located 132 km north of Banda. There are several flights that stopped at Ambon airport
From Ambon to Bandaneira served by Buana Nusantara. There is only one-way trip; IDR 320,000. Flights operate twice a week, Wednesday and Saturday. Ambon-Banda: 07.00. Banda-Ambon: 08.00. Contact: Ambon (Ms. Lin) 081 244 410 690, Banda (Mr Musri) 081 380 323 231
Besides planes, there are ferry crossings by PELNI. Scheduled twice a week by KM Ciremai. Make sure you do a recheck schedule for unexpected changes. (PELNI Ambon branch phone: 62 911 3415 57 / 62 911 3414 31)
Another alternative is to hire speedboat from Ambon, Masohi or Tulehu with negotiable price.
For inter-island cruise you need to rent a boat. Hatta Island IDR 500.000 / day; Batu Island + Banana Island IDR 350.000 / day; Lava Stream north of Mount Api IDR 120.000.
In Bandaneira, most people get around for sightseeing on foot. Or with a motorcycle taxi and becak to travel a little further.
ACCOMMODATION
Hotel Maulana is the most luxurious hotel in the Banda Islands. Princess Diana, Mick Jagger, and Jacques Cousteau once stay at this hotel in room number 40. There are also en-suite bathroom overlooking the pearl factory. Please contact +62,911,210 24.
Mutiara Guesthouse, it has air-conditioned rooms with a large yard for you to relax. Prices start about IDR 70.000 to IDR 125.000. Please call +62 813 303 4337 7.
Vita Guesthouse is the right place if you expect detailed information about specific destinations in Banda. This guesthouse has a private dock overlooking Gunung Api. You can rent a boat and diving equipment. here. Prices start around Rp 80,000 to Rp 100,000. Please call +62 819 450 9011 0.
Fresh seafood taken directly from the sea is the best menu in the Banda, try traditional grilled fish. There are several small restaurants serving a variety of Indonesian food.
As long as you are in the spice island, do not forget to try the nutmeg fruit jams, candied nutmeg and nutmeg chips. Other local menu is the eggplant filled with almond paste and fish sauce nutmeg. In December try some grapes that looks like an olive but sweet.
A chilled big bottle beer: IDR 30.000, fresh juices: IDR15.000, coke IDR 25,000
You can shop for souvenirs made of seafood, traditional meals and snacks. Pearls of Banda is a wonderful souvenir to take home with you.